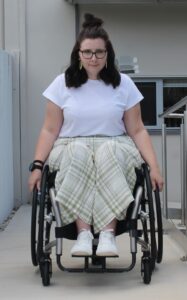 Brisbane's Cassandra Grey says having access to the NDIS has been "absolutely life changing".  At 21, Cassandra, now 23, said her disability came about from a pull to her back muscle on Christmas Eve, 2017. "On Boxing Day, I went to emergency. To relieve my pain, they gave me IV medication and my nervous system had a damaging reaction to it," she said.
Left with a neurological disorder, Cassandra said prior to the NDIS, she was completely reliant on her family and the hospital system because her home wasn't wheelchair accessible. "I had only bought my house six months prior, and there I was totally reliant on people to do everything for me. "My house was double-storey, the ground floor was split level and it had a steep driveway. It wasn't safe to live there. I kept falling and injuring myself, so I had to move out" she said.
"I was referred to LifeTec, who specialise in assistive technology (AT) and they came and did an assessment of my house and the AT I needed and provided a report to the NDIS. "Katie (from LifeTec) was amazing throughout the process. It was a big task given the house has a small footprint, had complex access but, now I have a fully accessible bedroom and wet room bathroom in what was my garage.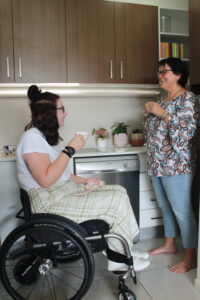 "I've also got a stairlift so I can manage the split levels between my kitchen and lounge, and I have a ramp in my front yard so I can leave home when I like, independently.
"I was also funded for a power assist wheelchair, which means I can get out of bed every morning and go about my day, go to Uni, to the gym and just live my life.
Cassandra said she's also grateful for her vehicle modifications. "I can drive my car again!" she said. "I can go shopping when I want to and go see my friends without someone driving me.
"My family is over the moon with the support I've received from the NDIS because now I'm 99 per cent independent in my own home and I can do most things myself.
"I'm mostly back to how I was pre-disability, and it nice to know it has made their lives and mine much easier given I'm no longer reliant on them 24/7," she said.
Don't let disability, injury, disease or age stop you from doing the things you love. At LifeTec our friendly health professionals take the time to hear your needs, goals, requirements and supports you right through the whole process.
For more consumer stories visit our website lifetec.org.au or contact us on 1300 543 383 to discuss your specific needs.